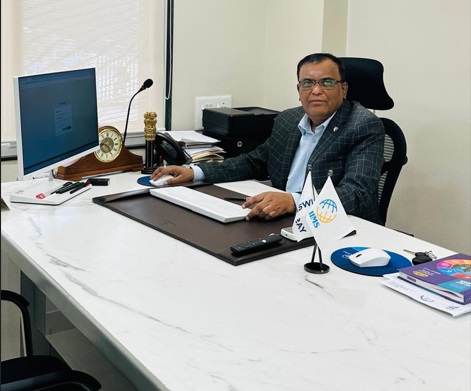 Dr Shivaji D Mundhe
Director- IIMS
Dr Shivaji D Mundhe has rich experience in the field of academics and research in management and computer application disciplines. He possesses over 24 years of experience in teaching and research. Dr. Mundhe is emphatically motivated, self-starting, versatile and strongly committed to progressive and innovative methodologies. He has a sharp & analytical mind, ability to see end to end keeping organization goals in mind, ability to evaluate and effectively focus on right target, strong communication & intra personal skills. He has a track record of achieving results consistently, has received several recognitions and team excellence appreciation awards from the various organizations. He has worked as Chairperson and delivered the keynote address in national and International Conferences. To his credit published more than 100 research papers in reputed national and international journals. Presented more than 60 research articles in national and international conferences. 10 research scholars have successfully completed their research work under his guidance.
From his desk…
India is going to high economic growth trajectory and will become an economic power next to USA and China in 21st Century. The purpose of the management education should be, therefore, to develop globally competitive professional managers who could contribute to the building up a strong national industrial and business base to ensure this dynamics. The management students would be judged not by their personality but by their knowledge, wisdom, creativity, forward looking approach, analytical skills, capability to cope up with business risks, communication skills and innovative ideas.
Yashaswi's IIMS has always been quick to grasp the changing requirements of the business/corporate world and had taken necessary actions in forms of introducing additional courses to the students. On these lines, we also focus on frequent industry interaction, to know our employer expectations. Our dedicated faculty ensures personalized attention to students and are ever willing to be available to the alumni too.
Maintaining a strong connection has always been an essential part of the culture at Yashaswi and it is evident from the close linkages which we have with our alumni. Today we can proudly say that our alumni are doing exceptionally well in their careers in India and abroad while staying engaged with their Alma mater.
On behalf of Yashaswi's IIMS, I am very happy to welcome our next batch of exuberant, young aspirants to the Institute. We look forward to our new entrants to come up to the expectations of the Institute and be part of this dynamic momentum that we have set for ourselves.
Dr Shivaji D Mundhe
Director- IIMS